Publication Source : engineeringnews.co.za
The N2 Wild Coast road project will contribute to economic growth and open a trade corridor along the south-eastern coast of South Africa that will promote trade and tourism in South Africa and neighbouring countries Mozambique, Swaziland and Lesotho, South African National Roads Agency Limited (Sanral) CEO Skhumbuzo Macozoma said this week.
The new N2 Wild Coast road will create many new opportunities for economic growth in the post-Covid-19 period, he said in a statement issued on April 29.
The project is expected to create thousands of new jobs and opportunities for the development of small, medium-sized and microenterprises (SMMEs), but will also make the movement of people and goods much easier, especially through the Eastern Cape. It represents a significant socioeconomic injection for local communities and about R4-billion will be spent on targeted enterprises during the construction period.
Small Business Development Deputy Minister Nokuzola Capa said the department had the necessary resources to support and coordinate programmes around SMME development, urging community members and other stakeholders to approach the department.
Addressing the 'Taking Sanral to the Wild Coast' stakeholder engagement meeting held in Lusikisiki on April 28, Sanral regional manager Mbulelo Peterson said its strategy and policies deliberately focused on the transformation of the construction industry, particularly the impact of Sanral's procurement in terms of job creation and opportunities for SMMEs.
"As we appoint contractors to execute projects on behalf of Sanral, we support the construction industry. This industry is critically important, but we also want to maximise the participation of black contractors, professionals, suppliers and designated groups in all our projects," he said.
The stakeholder engagement meeting would also assist in the development of local communities, said OR Tambo district municipality executive mayor Thokozile Sokhanyile.
She urged SMMEs to unite and work closely with Sanral, as well as local and provincial government structures.
"We need to work together as partners and find solutions for SMMEs in the region. Sanral is here to assist us through infrastructure to support economic development," she said.
Sanral has partnered with key stakeholders to assist black-owned businesses to benefit from project participation. The agency has signed memoranda of understanding (MoUs) with role-players in the industry to ensure rapid transformation. MoUs were signed with construction equipment and services companies and organisations, including Bell, Barloworld, Wirtgen, Pilot Crushtec, National African Federation of Building Industry and the South African Forum of Civil Engineering Contractors to assist with training of supervisory personnel.
The project was endorsed by the Presidential Infrastructure Coordinating Commission as a catalyst for economic development in the Eastern Cape province, and is a key part of the Strategic Integrated Project 3 South-Eastern node and Corridor Development, with the key purpose to serve as a catalyst to uplift economic growth in the Eastern Cape and KwaZulu-Natal.
It is Sanral's flagship project in the Eastern Cape. The 410 km route runs from the Gonubie Interchange, near East London, to the Mtamvuna river on the border of KwaZulu-Natal and the Eastern Cape near Port Edward.
The project has been under way since 2011; however, the major greenfield portion of the route between Port St Johns and Port Edward only started in 2016. The greenfield portion of the project traverses the Wild Coast, through the OR Tambo and Alfred Nzo district municipalities.
Local municipalities within the project include Port St Johns local municipality, Winnie Madikizela-Mandela local municipality (formerly Mbizana) and Ingquza Hill local municipality.
The project connects the Western Cape, Eastern Cape, KwaZulu-Natal and Mpumalanga provinces, traversing Cape Town, George, Port Elizabeth, East London, Mthatha, Durban and Ermelo. The project includes two megabridges, the Mtentu Bridge and Msikaba Bridge. There are also seven additional new major river bridges and several new interchange bridges that form part of the project, the roads agency said.
Public Transport stakeholders want the Nairobi Metropolitan Services (NMS) under General Mohamed Badi to double the parking fee of private vehicles rather than ban matatus in Nairobi CBD.
Matatu Welfare Association (MWA) chairperson Dickson Mbugua argued that private vehicles were the cause of congestion in the city. He lamented that the cars carried fewer passengers as compared to matatus.
"Increasing the parking fees from Ksh 200 to Ksh 400 will thus discourage private motorists from parking or driving their vehicles to CBD," Mbugua proposed.
The Kenya Revenue Authority (KRA) took over the collection of revenue from City Hall after former governor Mike Sonko signed the deed of transfer and shared power with the national government. KRA collects parking fees on behalf of NMS with motorists paying through unified payment short code (USSD) *647#.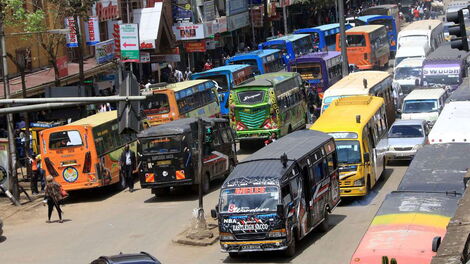 Matatus caught up ina traffic snarl-up at Tom Mboya street near Khoja/Old Mutual terminus
FILE
In November 2020, Nairobi County through the Finance Bill 2020 also proposed hiking parking fees to 400. However, their plan targeted all motorists.
Mbugua further said that the other solution to the matatu ban was expediting the BRT (Bus Rapid Transit) system that will have entry and exit points for buses after matatus are banned and parking fee for private vehicles is raised.
The Nairobi Metropolitan Area Transport Authority (NaMATA), however, said that its plans entailed using BRT buses to ferry commuters to and from CBD to Nairobi estates.
NaMATA released a schedule for the buses that will ply five routes within Nairobi County. These are Ndovu Line, Simba Line, Chui Line, Kifaru Line and Nyati Line. Ndovu Line starts at Kangemi to Imara Daima. Simba line runs from Bomas of Kenya through Blue Sky/TMall (Umoja) to Nairobi CBD then passes through Thika Road to Ruiru.
Chui Line starts at Njiru (Kasarani) to Showground (Kibera) and passes through Nairobi CBD. Kifaru Line serves commuters from Mamam Lucy, passes through Donholm, CBD, TMall, Bomas, Karen, to Kikuyu. Nyati Line links Ridgeways (Kiambu Road), Balozi (Allsops) to Imara Daima estate.
Mbugua's proposal to have the BRT system fast-tracked also faces a huge challenge as other matatu organisations opposed the plan. SACCOs wanted to be allowed to purchase and manage BRT buses than having them controlled by the government.
Another hindrance is the plan by NMS to offer its alternative buses, or use taxis and boda bodas to ferry customers within CBD.
The MWA chairperson further warned that the matatu termini being built by NMS were small and would not accommodate enough matatus. He said that this will cripple the transport sector as drivers will be forced to park on roads which will escalate traffic snarls outside CBD.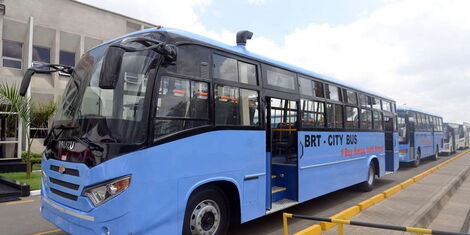 BRT buses pictured in Nairobi.
FILE
"We witnessed such confusion during the trial with Muthurwa bus stage where matatu drivers who did not find parking space simply ended journeys in the middle of Jogoo Road that became inaccessible before rules were relaxed," he cautioned.
NMS postponed the matatu relocation plan to a further date after the project was compounded by delays in the construction of termini and negotiation challenges. The termini include Green Park terminus at Railways Club, Fig Tree Terminus at Ngara, Bunyala and Workshop Road, Muthurwa Terminus and a proposed terminus at Globe Cinema Roundabout.
It already unveiled a mobile app meant to restrict the flow of matatus in the CBD. The app will only allow a handful of matatus into the CBD in a bid to reduce congestion in various pickup points.