Publication Source : engineeringnews.co.za
Market research commissioned by electric vertical takeoff and landing (eVTOL) company Horizon Aircraft indicates that there will be rapid and considerable growth in investment in the urban air mobility (UAM) market by private equity and venture capital investors. The data was gathered by market research company Pure Profile, which interviewed 100 venture capital and private equity professionals, based in Australia, France, Germany, the Netherlands, New Zealand, the UK and the US, regarding their views on the UAM market. The interviews were conducted last month, online.
UAM eVTOLs are popularly called flying taxis, and some $900-million was invested in this sector during the first six months of last year, according to international consultancy group Roland Berger. The Pure Profile research ascertained that 59% of its interviewees expected more than $2-billion would be invested in the UAM sector this year, while 41% thought that the figure would be more than $3-billion. Indeed, 16% of the total thought that the number would exceed $4-billion.
"The eVTOL market is predicted to enjoy rapid growth over the next few years, and by 2050 there could be 160 000 commercial air taxis or more operating around the world, generating over $90-billion a year in revenue," pointed out Horizon Aircraft CEO and co-founder Brandon Robinson. "This coupled with the fact that the sector is incredibly dynamic and fast moving, means it is attracting a huge amount of interest from investors. We expect this trend to continue."
The interviewees were asked what they thought were the main factors driving the rising level of investment in the UAM sector. According to 64%, the number one reason was that more large companies were entering the sector, as this was increasing confidence in its viability. Increasing merger and acquisition activity in the sector, plus eVTOL companies listing at attractive valuations, came next, according to 58% of the interviewees. In third place, cited by 37%, was increasing public confidence in the market.
Another aspect of the survey was that 62% of the interviewees believed that there would be increased use of special purpose acquisition companies (SPACs) to raise funds for, invest in, or buy eVTOL companies. A SPAC exists solely to raise capital, by means of an initial public offering, to buy an existing enterprise. SPACs have no commercial operations of their own.
Horizon Aircraft is a Canadian company currently focused on developing the Cavorite X5 hybrid electric eVTOL aircraft for the UAM and other markets. The Cavorite X5 will be able to carry a pilot and four passengers over a maximum range of 500 km. In February, Horizon entered into a binding agreement under which it agreed to be bought by US company Astro Aerospace.
Public Transport stakeholders want the Nairobi Metropolitan Services (NMS) under General Mohamed Badi to double the parking fee of private vehicles rather than ban matatus in Nairobi CBD.
Matatu Welfare Association (MWA) chairperson Dickson Mbugua argued that private vehicles were the cause of congestion in the city. He lamented that the cars carried fewer passengers as compared to matatus.
"Increasing the parking fees from Ksh 200 to Ksh 400 will thus discourage private motorists from parking or driving their vehicles to CBD," Mbugua proposed.
The Kenya Revenue Authority (KRA) took over the collection of revenue from City Hall after former governor Mike Sonko signed the deed of transfer and shared power with the national government. KRA collects parking fees on behalf of NMS with motorists paying through unified payment short code (USSD) *647#.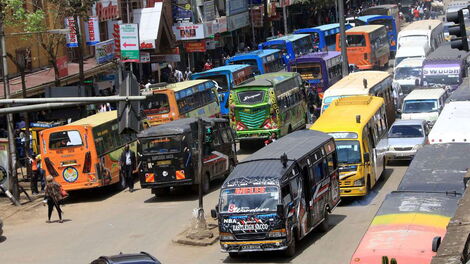 Matatus caught up ina traffic snarl-up at Tom Mboya street near Khoja/Old Mutual terminus
FILE
In November 2020, Nairobi County through the Finance Bill 2020 also proposed hiking parking fees to 400. However, their plan targeted all motorists.
Mbugua further said that the other solution to the matatu ban was expediting the BRT (Bus Rapid Transit) system that will have entry and exit points for buses after matatus are banned and parking fee for private vehicles is raised.
The Nairobi Metropolitan Area Transport Authority (NaMATA), however, said that its plans entailed using BRT buses to ferry commuters to and from CBD to Nairobi estates.
NaMATA released a schedule for the buses that will ply five routes within Nairobi County. These are Ndovu Line, Simba Line, Chui Line, Kifaru Line and Nyati Line. Ndovu Line starts at Kangemi to Imara Daima. Simba line runs from Bomas of Kenya through Blue Sky/TMall (Umoja) to Nairobi CBD then passes through Thika Road to Ruiru.
Chui Line starts at Njiru (Kasarani) to Showground (Kibera) and passes through Nairobi CBD. Kifaru Line serves commuters from Mamam Lucy, passes through Donholm, CBD, TMall, Bomas, Karen, to Kikuyu. Nyati Line links Ridgeways (Kiambu Road), Balozi (Allsops) to Imara Daima estate.
Mbugua's proposal to have the BRT system fast-tracked also faces a huge challenge as other matatu organisations opposed the plan. SACCOs wanted to be allowed to purchase and manage BRT buses than having them controlled by the government.
Another hindrance is the plan by NMS to offer its alternative buses, or use taxis and boda bodas to ferry customers within CBD.
The MWA chairperson further warned that the matatu termini being built by NMS were small and would not accommodate enough matatus. He said that this will cripple the transport sector as drivers will be forced to park on roads which will escalate traffic snarls outside CBD.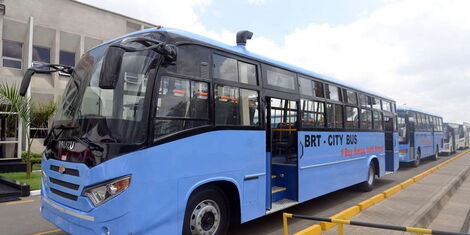 BRT buses pictured in Nairobi.
FILE
"We witnessed such confusion during the trial with Muthurwa bus stage where matatu drivers who did not find parking space simply ended journeys in the middle of Jogoo Road that became inaccessible before rules were relaxed," he cautioned.
NMS postponed the matatu relocation plan to a further date after the project was compounded by delays in the construction of termini and negotiation challenges. The termini include Green Park terminus at Railways Club, Fig Tree Terminus at Ngara, Bunyala and Workshop Road, Muthurwa Terminus and a proposed terminus at Globe Cinema Roundabout.
It already unveiled a mobile app meant to restrict the flow of matatus in the CBD. The app will only allow a handful of matatus into the CBD in a bid to reduce congestion in various pickup points.